BLOG
Posted on 21 Jan 20
Privacy Policy
Baron Bloomer built the Run Gary Run app as a Free app. This SERVICE is provided by Baron Bloomer at no cost and is intended for use as is.
This page is used to inform visitors regarding my policies with the collection, use, and disclosure of Personal Information if anyone decided to use my Service.
If you choose to use my Service, then you agree to the collection and use of information in relation to this policy. The Personal Information that I collect is used for providing and improving the Service. I will not use or share your information with anyone except as described in this Privacy Policy.
The terms used in this Privacy Policy have the same meanings as in our Terms and Conditions, which is accessible at Run Gary Run unless otherwise defined in this Privacy Policy.
Information Collection and Use
For a better experience, while using our Service, I may require you to provide us with certain personally identifiable information, including but not limited to game scores, play initials (3 characters). The information that I request will be retained on your device and is not collected by me in any way.
The app does use third party services that may collect information used to identify you.
Link to privacy policy of third party service providers used by the app
Log Data
I want to inform you that whenever you use my Service, in a case of an error in the app I collect data and information (through third party products) on your phone called Log Data. This Log Data may include information such as your device Internet Protocol ("IP") address, device name, operating system version, the configuration of the app when utilizing my Service, the time and date of your use of the Service, and other statistics.
Cookies
Cookies are files with a small amount of data that are commonly used as anonymous unique identifiers. These are sent to your browser from the websites that you visit and are stored on your device's internal memory.
This Service does not use these "cookies" explicitly. However, the app may use third party code and libraries that use "cookies" to collect information and improve their services. You have the option to either accept or refuse these cookies and know when a cookie is being sent to your device. If you choose to refuse our cookies, you may not be able to use some portions of this Service.
Service Providers
I may employ third-party companies and individuals due to the following reasons:
To facilitate our Service;
To provide the Service on our behalf;
To perform Service-related services; or
To assist us in analyzing how our Service is used.
I want to inform users of this Service that these third parties have access to your Personal Information. The reason is to perform the tasks assigned to them on our behalf. However, they are obligated not to disclose or use the information for any other purpose.
Security
I value your trust in providing us your Personal Information, thus we are striving to use commercially acceptable means of protecting it. But remember that no method of transmission over the internet, or method of electronic storage is 100% secure and reliable, and I cannot guarantee its absolute security.
Links to Other Sites
This Service may contain links to other sites. If you click on a third-party link, you will be directed to that site. Note that these external sites are not operated by me. Therefore, I strongly advise you to review the Privacy Policy of these websites. I have no control over and assume no responsibility for the content, privacy policies, or practices of any third-party sites or services.
Children's Privacy
Uploading scores on the server will allow children to create or manipulate content and save it through the app. None of these activities require children to provide any personal information except for 3 characters which could signify their initials and therefore do not result in notice to the parent or require parental consent. We strongly advise children to never insert personal information in their created content.
The default viewing setting for the app that allow children to create or manipulate content, and any associated information, is set to "public," so once a score is uploaded is it visible to all players to view. If a user does not upload their score to the server by disabling their internet connection then it will not be visible to any other player. Apart from a game score (numeric) and initials (3 letters) no other personal information is collected that could identify the individual playing. Because no score can clearly be identified to an individual in any way, once a score and initials are uploaded it is permanent.
About Verifiable Parental Consent. In the event that the app wishes to collect additional personal information from a child, we will first seek a parent or guardian's consent by email. In the email we will explain what information we are collecting, how we plan to use it, how the parent can provide consent, and how the parent can revoke consent. If we do not receive parental consent within a reasonable time, we will delete the parent contact information and any other information collected from the child in connection with that activity.
Changes to This Privacy Policy
I may update our Privacy Policy from time to time. Thus, you are advised to review this page periodically for any changes. I will notify you of any changes by posting the new Privacy Policy on this page. These changes are effective immediately after they are posted on this page.
Contact Us
If you have any questions or suggestions about my Privacy Policy, do not hesitate to contact me at www.baronbloomer.com.
---
Posted on 22 Jan 15
Hi All,
I've recently been struggling quite a bit with Game Maker iOS releases in that I haven't been able to build due to Xcode complaining about a missing FacebookSDK.framework file (resulting in an Apple Mach-O Linker Warning).
I spent ages in the GMC forums trying to find a solution, but was unsuccessful. At first I thought the Game Maker iOS export function was bugged, and thus would have to wait for the next update to correct it. However other people appeared to be using v1.4.1474 without hassle, so I decided to investigate further...
Looking over the linked frameworks/library files in Xcode I noticed that Xcode could not find the FacebookSDK.framework file. Strange, so I opened the directory which held those files and surely enough I found a file called "FacebookSDK.framework.zip".
Interesting, that looks just like what Xcode is complaining about not being able to find, maybe if I unzip it and get rid of the .zip extension it'll work? So I double clicked the file to unzip it and sure enough out popped a "FacebookSDK.framework" file. I dragged the newly created FacebookSDK.framework into Xcode (adding it with all the other frameworks in my project) and Xcode stopped complaining/producing the error.
So naturally I tried rebuilding and deploying my project on my device and what do you know - everything works again!
The problem appeared to be that Game Maker Studio wasn't unzipping the FacebookSDK.framework and therefore Xcode couldn't find it. I haven't heard too many other people complain about it so it might just be a problem localised to me, but in the off chance it isn't, and you see this post, hopefully this can be of some help.
It looks like I'll be able to release Run Gary Run updates for iOS again - yay!
NB* In other news, iOS users can expect a Run Gary Run update in the coming weeks, screenshot attached :)
---
Posted on 12 May 14
Hi all,
Run Gary Run is finally available for download on Android devices! Its been a long time coming, but I can at long last call myself a mobile developer - which has been a dream of mine for as long as I can remember. To celebrate this momentus occasion I've made it free to download, so if you're bored and want something to entertain you go ahead and give it a try!
An iOS version is coming too, so don't fret iPhone users! It's just undergoing the review process so should hopefully be on iTunes by the end of the week!
Android users can click here to view the app on Google Play.
---
Posted on 11 Apr 14
It's been awhile since I've written a blog post, due purely to the fact that I've had too many other things on my plate!
My last blog post was some time in November last year (time travels fast), and between then and now I've done/accomplished a lot of things which include:
Graduated from university (B Business)
Started my first "professional life" job
Learnt a great deal more about Ruby on Rails, Javascript, CSS and HTML (I'm like a wizard now haha)
Started a YouTube channel (although I've only posted one video, so I guess you could say this point doesn't really count)
All though I'm pretty happy with all that, there's still a lot that I'm hoping to achieve by the end of this year. I'm getting awefully close to completing 2 iOS/Android video games, 'Gary' (a platformer game like Mario) and 'Run Gary Run' (an arcade style game) - both of which I've posted on before.
These two titles have taken a slight back seat due the aforementioned commitments I've had, but I'm hoping to put more effort into finishing these titles and I really thing I might be getting close!
The image associated with this post is a preview of what I've done in 'Run Gary Run' since I last posted about it. I've added multiple tiers now, which I hope will make it more engaging for the user. I also redesigned some of the graphics, going for a more '3D' look.
I'm also hoping to launch my Game and Development showcase/blog website soon too! So stay tuned for that...
There's also a couple of other interesting things in the pipeline I'm really excited for, but I guess you'll just have to wait to hear more on those things. :)
I'll try not to make the time between my next post too long!
Baron
---
Posted on 17 Nov 13
I've been working on Gary: A Platform Adventure for a very long time now, about 3 years - maybe more (on and off).
It's still not done, however I've finally completed all the game programming. All that's left to do now is bug fixing!
Unfortunately 3+ years makes for some very sloppy code, so there are heaps of bugs I've yet to fix. As a result it could be awhile before the final version is ready.
I'm currently looking for Beta testers to help test/find errors in the game - so if you think that's something you'd like to help me with please done hesitate to send me an email/enquiry by clicking on the 'Contact' link in the navigation bar.
Here are some screenshots of the game: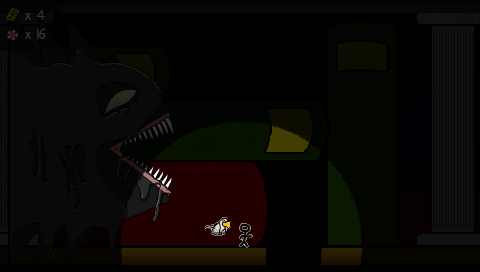 Stay tuned!
---
Posted on 12 Aug 13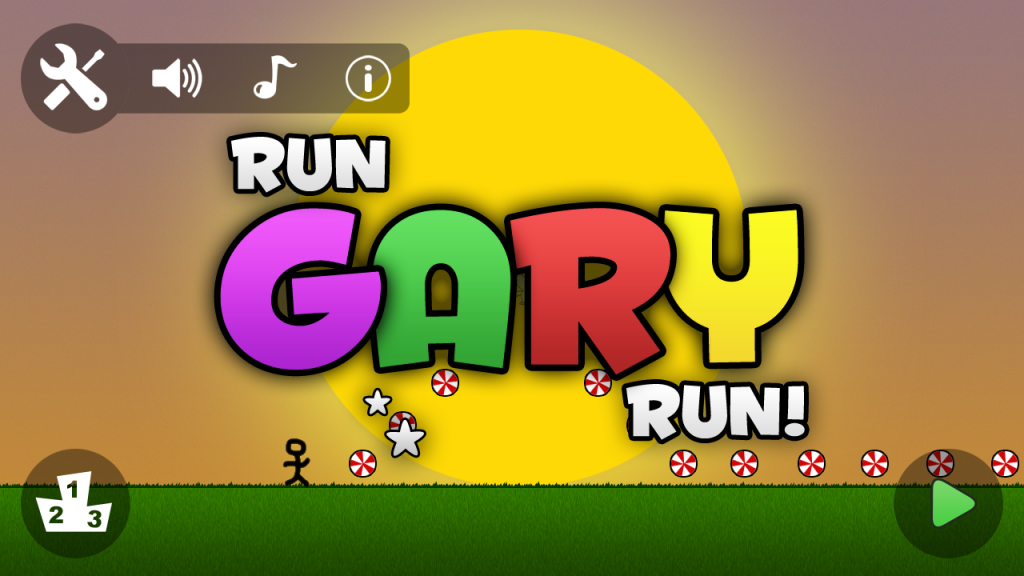 Just thought I'd share a quick preview of an app I'm currently working on expected to be released on iOS and Android devices.

It's basically a simple pickup-and-play style game called 'Run Gary Run!', modelled after the classic arcade style game of racking up the biggest highscore you can which can be uploaded to an online server (ultimate bragging rights!). The player continually runs along the screen to travel the furthest distance possible, whilst trying to accumulate as large a score as possible - so in this way it's similar to Jetpack Joyride, with the addition of trying to score big.
I'm looking to add an in-game store, so players can buy new characters, items and maps.
Here are a few images showing the current graphics in development. Take note the game is still in the very early stages of development and thus is subject to great change. The game will be optimised for HD devices such as the iPhone 5 and Samsung Galaxy S3, providing an out-of-the-box resolution of 720p.
Head-up Display (HUD)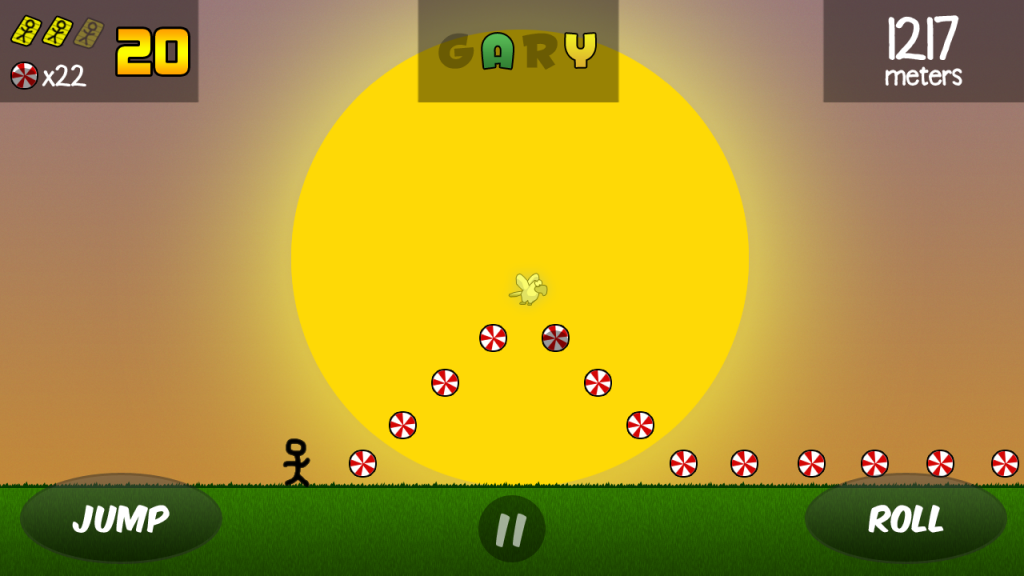 I'll be looking to uploaded further progress on this app on this blog, so if you want to stay up to date with news then go ahead and save this page in your bookmarks!
:)
---
Posted on 28 Jun 13
Welcome one, welcome all!
Thanks for visiting my site!
This site design is replacing the old 'dreamspace' design and is much simpler to use! RIP dreamspace :)
Hope you like it!